The creation of a website is a collaborative process: our first consideration is always the clients' unique needs in branding, budget and aesthetics. Every client is different, and deserves a comprehensive, custom-built, and modern approach to their digital storefront.
Design & Development
Scope of Your Project
WebWorkz Digital Strategies is committed to an open, client-focused process.
The first step is to determine the key needs for your online presence. Depending on the functionality, content, exposure, and design, development projects can range in scope from $500 to $10,000+
Design
WebWorkz Digital Strategies offers three 'levels' of development, listed below. We can help you determine which is best for your future website.
A) Template – a website design selected from our library of existing website layouts
B) Custom – a design created by our designers to meet your specific direction and/or existing brand equity
C) Customized – a design created by altering a template selected from our library to match your specifications
Content
WebWorkz Digital Strategies can create or gather all the content needed for your site.
Often a client will need or want to provide the content for themselves – like some of our current clients, you may own a restaurant and want to provide a menu and photos of your location for your website.
We Work With You
After a discussion of the scope of the project you are planning, we prepare a pricing proposal. The client can then choose to either:
narrow the scope of the proposal into a fixed price scope of work, or
track our time as we work on the project and bill in quarter-hour increments at a rate of $85 per hour, with any effort exceeding the original estimate requiring your prior approval.
Functionality
WebWorkz Digital Strategies can custom build any functionality for you website. Some options include:
| | |
| --- | --- |
| Forms | Galleries & Slideshows |
| Blogs | Calendars |
| News Feeds | eCommerce |
| Video | Forums |
WebWorkz Digital Strategies can customize a hosting solution to suit your needs. We can configure a website server for the development of a new website, or immediately setup a new hosting environment for your existing website, transfer any existing domain names and email accounts to this new server and provide ongoing monthly hosting.
Website Hosting
You Need Access
Whether you need to host a simple website, you need access to a server without the hassle of maintenance and management, or you want flexible, on-demand server resources, CnnnectWorkz can provide a quick, convenient and affordable solution. As an authorized ViaVerio partner we provide reliable website hosting services. ViaVerio is the global industry leader in providing world-class hosting and SaaS solutions to small and medium businesses. Our website hosting services deliver robust performance and reliability that you can count on to support all of your hosting needs.
WebWorkz Digital Strategies can provision and configure a server to meet your needs and specifications. We offer a variety of configurations for all hosting platforms.
You Get More
All of our hosting clients and servers include the following:
24/7 server monitoring
Triple data backup
Real-time website traffic statistics and analysis
Domain based email accounts, aliases and auto-responders
Spam Assassin SPAM filtering and DNS Blacklisting
Virus Scanning on all email accounts
Basic
Unlimited disk space
100 email accounts
6 TB Transfer
—
Professional
Unlimited disk space
250 email accounts
8 TB Transfer
—
Business
Unlimited disk space
500 email accounts
12 TB Transfer
—
Commerce
Unlimited disk space
500 email accounts
12 TB Transfer
SSL Certificate
If your website and internet needs go beyond website and email hosting, or the size of and traffic to your site is substantial, we can provision and help you manage your own server environment. *Additional hosting packages can be provided based on specifications. Pricing indicate entry level. Additional resources can be added at any time.
Take the First Step
Depending on the scope of the project, we typically start with the creation of a website design drawn from our library of CSS templates and customized to reflect your design specifications and your existing brand equity. After review of some initial design options, we apply the approved design to HTML and cascading style sheet (CSS) templates. These design templates will then be integrated into a Content Management System (CMS) and combined with menu navigation and website pages using content, images and video you provide to deliver a complete website. See our Workz section for examples and ides.
This CMS will provide authorized site editors the tools to add, change and delete website content through a secure login using a simple to use editor. This capability will give you more control over your website content and make it easier and less expensive to keep your site up to date, accurate and dynamic.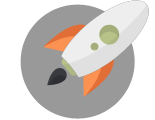 We're Here To Help Your Business Blast Off!
Through Creative Ideas, Innovation & Sheer Determination