Website Maintenance
Each WebWorkz Digital Strategies client has a direct line to our support team. We're here to make sure your site has constant uptime; we're here to help with content updates, redesigns – any and all your technical questions.
Stay Safe
The Internet is constantly changing. The technology on which websites are built needs frequent security updates.
WebWorkz Digital Strategies will always keep clients upgraded for security and ease-of-use.
Stay Slick
Professional standards of design are consistently upping the expectations for customer-facing websites.
WebWorkz Digital Strategies is always at the forefront of website design, ready to upgrade your site to ever sleeker interfaces.
Technical Support
Technology changes, problems arise and security is a challenge. WebWorkz Digital Strategies quickly fixes problems and work to keep you secure.
Fast & Friendly
Whether you need to host a simple website, you need access to a server without the hassle of maintenance and management, or you want flexible, on-demand server resources, WebWorkz Digital Strategies can provide a quick, convenient and affordable solution. As an authorized ViaVerio partner we provide reliable website hosting services. ViaVerio is the global industry leader in providing world-class hosting and SaaS solutions to small and medium businesses. Our website hosting services deliver robust performance and reliability that you can count on to support all of your hosting needs.
WebWorkz Digital Strategies can provision and configure a server to meet your needs and specifications. We offer a variety of configurations for all hosting platforms.
Safe & Secure
All of our hosting clients and servers include the following:
24/7 server monitoring
Triple data backup
Real-time website traffic statistics and analysis
Domain based email accounts, aliases and auto-responders
Spam Assassin SPAM filtering and DNS Blacklisting
Virus Scanning on all email accounts
Basic
Unlimited disk space
100 email accounts
6 TB Transfer
—
Professional
Unlimited disk space
250 email accounts
8 TB Transfer
—
Business
Unlimited disk space
500 email accounts
12 TB Transfer
—
Commerce
Unlimited disk space
500 email accounts
12 TB Transfer
SSL Certificate
If your website and internet needs go beyond website and email hosting, or the size of and traffic to your site is substantial, we can provision and help you manage your own server environment. *Additional hosting packages can be provided based on specifications. Pricing indicate entry level. Additional resources can be added at any time.
Take the First Step
Depending on the scope of the project, we typically start with the creation of a website design drawn from our library of CSS templates and customized to reflect your design specifications and your existing brand equity. After review of some initial design options, we apply the approved design to HTML and cascading style sheet (CSS) templates. These design templates will then be integrated into a Content Management System (CMS) and combined with menu navigation and website pages using content, images and video you provide to deliver a complete website. See our Workz section for examples and ides.
This CMS will provide authorized site editors the tools to add, change and delete website content through a secure login using a simple to use editor. This capability will give you more control over your website content and make it easier and less expensive to keep your site up to date, accurate and dynamic.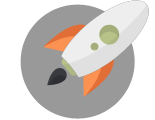 We're Here To Help Your Business Blast Off!
Through Creative Ideas, Innovation & Sheer Determination