Translate your existing identity or work with you to create a new one to establish your Internet presence.
We have strategies and tools to extend your reach and offer help keeping your message current, relevant & updated over time..
Stay current with technology trends and solutions to help them do their jobs more efficiently and cost effectively.

Connect with us: send any questions or comments you may have, or ask what WebWorkz Digital Strategies can do for you and your business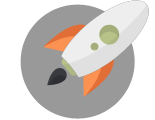 We're Here To Help Your Business Blast Off!
Through Creative Ideas, Innovation & Sheer Determination