We Help You Create.
Translate your existing identity or work with you to create a new one to establish your Internet presence.
We Help You Connect.
We have strategies and tools to extend your reach and offer help keeping your message current, relevant & updated over time..
We Support You.
Stay current with technology trends and solutions to help them do their jobs more efficiently and cost effectively.

Connect with us: send any questions or comments you may have, or ask what WebWorkz Digital Strategies can do for you and your business
Main Office: 1600 Stout Street, Suite 500, Denver, CO 80202
Phone: 303.331.1044
Email: info@webworkzdigital.com
Support Email: support@webworkzdigital.com
Online Knowledgebase: support.webworkzdigital.com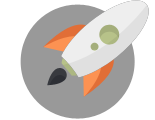 We're Here To Help Your Business Blast Off!
Through Creative Ideas, Innovation & Sheer Determination